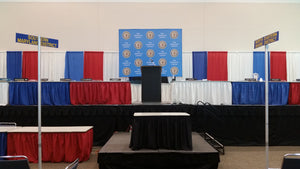 American Legion, Department of MD Convention Corporation
Post Delegate (Primary) Late Registration - American Legion Department of MD Convention
Registration form for submission and payment of PRIMARY delegate fees for American Legion Department of MD Convention, to be held July 11-14, 2023 at the Ocean City Convention Center in accordance with the CALL.
Please select the correct number of delegates, Dept Officers, and District Commanders on the order.  Posts must pay for all delegates submitted and Department Elected Officers, including District Commanders. If incorrect amounts are submitted the Post shall be subject to late fees on all delegates. 
Post must complete all fields and attached the delegate listing before checking out.
Posts shall use the Tally Sheet total delegates to select the correct number of delegates to pay for using this transaction.
If the Post has Alternate delegates to register, they should register them using the Alternate Delegate registration link in our Convention Store. 
---
More from this collection